Frisian love poem
De spegel
Dyn byld yn 'e spegel
Is myn moaiste fers
Mar, wês fluch, it ferdwynt
It is myn lêste 'ik hâld fan dy'!
Traduit en frison par Ciska Noordmans
Afûk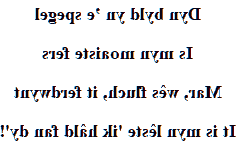 Other version
De spegel
Dyn byld yn 'e spegel
Is myn moaiste gedicht
Mar wês fluch, foar 't it ferdwynt
It is myn lêste "Ik hâld fan dy"!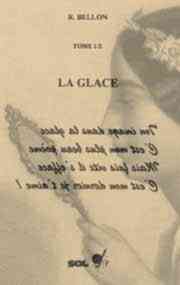 Frisian language
Frisian is a Western Germanic language spoken mainly in Dutch Friesland (450,000 people). This is the West Frisian (Dutch) version of my love poem (leafdesgedicht) that I propose here. To be complete, the Frisian denomination includes two other variants: East Frisian in Saerland (Lower Saxony), and northern Frisian in the German Schleswig-Holstein. There are real differences between these dialects.
In the middle of the 18th century, in Friesland, the upper classes began to use the Dutch more, leaving Frisian to the other layers of the population. A century later with the compulsory education of Dutch, began a great decline. But in 1938 the Fryske Akademy, an institute for research and documentation on language and culture, was created, so just after the war one will begin to see bilingual inscriptions in Frisia. It will even be a question of hoisting West Frisian as a national language jointly with Dutch, but for now, it is only a regional language.
The Frisians
By around years 250, the rising sea levels made the lands of the coastal islands where Frisians were installed unsuitable. They were forced to return to live on the mainland (north-east of holland - northwestern Germany) and for some of them, to cross towards the Kent region. Later (around 400), others will cross to England with Angles, Jutes and Saxons. Those who remained in Friesland, will collide with the: Franks, Danes, Dutch, Saxons and Spaniards. In 1579 West Friesland will lose its independence to become a province of the Netherlands.
Poem translated into frisian (524 translations)