Sarkese love poem
L'Mireuř
Tn'image dàn l'mireuř,
Ch'ê man pù byò vérsě,
Mê dêpěche-tě, i's an va,
Ch'ê man dérnẏ "j't éme".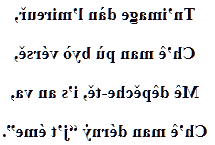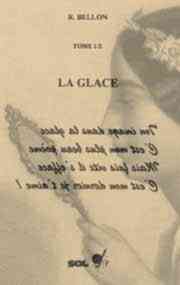 Sarkese language
Sarkese (Norman of Sark, Sercquais, autonym: Sérčê), is a langue d'oïl, the Norman language of the inhabitants of the Channel Island of Sark.
All variants of Norman are variants of the langue d'oïl of the Paris basin, which will become the standard of French. Then all these variants will continue to evolve and diverge.
When France loses Normandy, the "French" which was spoken in Great Britain will separate a little more from continental "French".
Due to the differences between the different dialects of the Channel Islands, mutual understanding from one island to another is sometimes difficult.
It remains very important to properly study and document all these dialects, and Sarkese (the language of "crows and rabbits"), with only three active native speakers, is the most endangered variety of Insular Norman.
If today this language has escaped extinction, it is thanks to Martin Neudörfl and Richard Axton, who have undertaken, since 2015, to document and codify the unique heritage of this Norman language, in order to revitalize it.
The objective being to be able to relearn this archaic language, in order to be able to teach and transmit it. In 2019 courses for children could start, in 2021 courses for adults followed.
Sark (Séṙ), is a pretty little island of just over 5 km2, located not far from Guernsey. It is a wild island, with pebble or sandy beaches, steep cliffs, and a few small houses.
Poem translated into sarkese (524 translations)