Alsatian love poem
Spieyel
Din beld em spieyel
Esch min schenchte gedicht
Dommel di es verchwint glich
Es ich min letchte esch lieb dech.
Translated into Alsatian by Christina Ober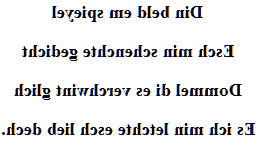 Alsatian woman
Poetry translated into Alsatian (Elsässisch, Elsäsisch), of course the dialect of Alsace. This low Germanic dialect still has many speakers and is with Occitan the 1st or 2nd regional language in France.
Alsatian dialect
Alsace is a border region with Germany! During its history, and despite its own identity, it has often been tossed between France and Germany. The Alsatian dialect has nuances according to the place where it is spoken ... Nuances that also affect its pronunciation ... But all the dialectal variants of the Alsatian are nevertheless very similar and intercomprehensible.
La Glace © Copyright & Contact: Richard Bellon
http://love.poem.free.fr/regional-poems/alsatian-poem.html
Poem translated into alsatian (480 translations)