Aragonese love poem
Lo espiello
La tuya imachen en o espiello
Ye lo mío poema mas bonico
Pero nanta, que se borra
¡ye lo mío zaguer "te quiero"!
Audio A.C. Nogará-Religada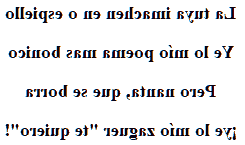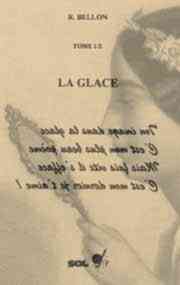 Aragonese language
The translation of my little love poem into Aragonese (Navarroaragonés, Chistabino (Chistabín), Tensino, Aragoieraz, Ribagorzano, Western Aragonese, High Aragonese, Bergotés, Cheso, Pandicuto (Panticuto), Fabla Aragonesa, Patués, Southern Aragonese, Semontanés, Eastern Aragonese, Fobano, Ayerbense, Benasqués, Belsetán, Ansotano, Central Aragonese, Altoaragonés, Grausino, autonym : Aragonés).
The Aragonese language is an Indo-European, Ibero-Roman language close to Catalan and Gascon, spoken in the Spain region of Aragon (High Aragon). Aragonese is not even really considered a regional language, but much more like a minority language.
This language has so much receded, especially due to migrations to cities which have contributed to breaking down the transmission between generations, that today it is no longer spoken except in the north of Aragon, in a few valleys at the foot of the of the Pyrenees by around 10,000 people.
While there is a whole variety of dialects, they are interwoven with each other ... you will find a few names above.
For the written language, if we consider that the "Glosas Emilianenses" of the eleventh century, are the first trace, it is only in the following century that we begin to find texts, most often administrative and legal.
If in the 14th century, we began to translate the classics, the 15th century with the reign of the "Trastamaras" (Castilians), over Aragon, we saw the language regress in favor of Castilian, relegating Aragonese, less prestigious, to the rural areas ... since Aragonese will only regress, presenting only a few writings.
After Franco we will see the beginning of desire to defend the language, through associations, but it will be necessary to wait for the beginning of the second millennium to really normalize Aragonese.
As you will understand Aragonese remains an endangered language.
It history, rich of geographical extensions, will obviously weigh on the language, incorporating the Oc, Catalan and Arabic languages influences, since the Muslim conquest, except for some Pyrenean valleys, included Zaragoza, Barcelona etc.
Aragón
Aragon is a region in northeastern Spain, bordering the Basque Country, Navarre and Catalonia.
The Muslim conquest has never succeeded to fully control the Pyrenean valleys, that will fall in the Frankish sovereignty (8th century).
The region of Aragon takes its name from a Pyrenean valley in the region of Huesca, the valley of Aragon.
It is in the 9th century that we find mention of the first count of Jaca, Aurelo ... then the following (Aznar), who maintain the territory between the Muslim forces and those of the Franks.
In its history, the kingdom of Aragon has spread to the coast, to present-day Catalonia to the south and east, and to France (Roussillon and Provence).
Poem translated into aragonese (524 translations)