Guernésiais love poem
Le miraeux
Ta picture dans le miraeux,
Ch'est mon pus biau verset,
Mais avaenche daon! I's'en va à graend pas
Ch'est mon droin "j't'oïme"!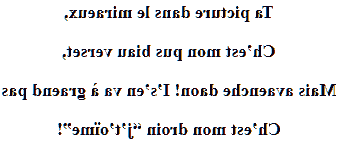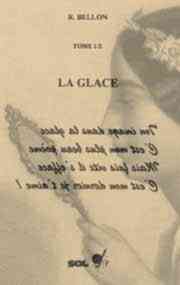 Guernésiais language
Guernésiais (Dgèrnésiais, Guernsey Norman, Guernsey French), is the vernacular language of Guernsey,
This language was for centuries the majority language of the island. It cohabited for a while with the standard French spoken in France at the time, which was even dominant in the capital, St Peter Port, until the presence of the English language intensified. The dominance of English largely arose as a result of the evacuation of the majority of school age children to the U.K. for five years during the Nazi Occupation of the islands during the Second World War.
While Guernésiais is recognised as a national and regional language, it is harder to classify as a written language, since there is no standard, and official spelling. However there are many texts, stories, anthologies of poems, songs and children's rhymes written and recorded in Guernésiais. Also many of the island's ancient laws are written in the legal form of Norman French.
It is only recently that there has been a rediscovery of interest in regional identity and in the Guernésiais language itself. A Language Commission has been established and some local associations are seeking to promote it. Nevertheless, as it only has a little over 1,000 speakers, it can today be considered an endangered language.
Norman and therefore Guernésiais had a massive influence on English, since the language of William the Conqueror came from the other side of the Channel; it was the court language used for five centuries.
Compared to Jèrriais, the Guernsey Norman, perhaps because the island is a little further away, was less influenced by standard French, thereby retaining many older Norman words and constructions.
Guernsey
Guernsey is one of the two largest Channel Islands, it has about 60,000 inhabitants. It is located in the north of the Gulf of St Malo, north of Jersey, east of the French coast (Cotentin peninsula).
This island is both a mecca for tourism where you can find crafts and agriculture and also a place where companies have set up to benefit from its advantageous tax status.
In addition to Victor Hugo, for whom Guernsey was a land of refuge (he spent the last fourteen years of his exile at Hauteville House in Saint-Pierre-Port), Guernsey welcomed Huguenots during the wars of religion.
Poem translated into Guernésiais (524 translations)