Reunionese Creole love poem
La glace
Ton figir le dans la glace
Ces mon pli beau zistoir.
Dépêche à ou pour lire li sava effacé
Mi dit à ou mi aime à ou!
Translated into Kréol Rénioné by Yvette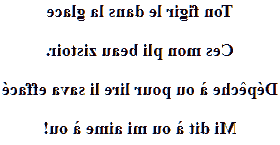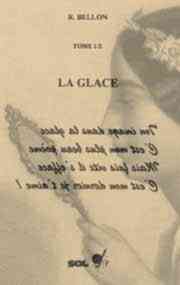 Reunionese Creole language
Love poem translated into Reunionese Creole (Créole Réunionnais, Réunion Creole, Kréol Rényoné, Rénioné, Réyoné, Kréol), the Creole language of Reunion Island, based on French and provincial patois such as Gallo and Norman, enriched by Malagasy, Chinese, Tamil contributions etc..
Kréol Rénioné, a vernacular language with approximately 500,000 speakers, is used in family and non-administrative exchanges. It is also the language of Maloya, an important musical genre in Reunion, which developed with slavery.
If it is a mainly an oral language, today it is written more and more, and many writers publish in this language. Nevertheless, it should be noted that everyone uses their own spelling, because if dictionaries have been printed, there is still no consensus on the spelling.
Since 2014, Kréol Rényoné has acquired the status of a regional language and it is taught both at school and at university. The "lofis la lang kréol" helps to promote it and a consensus to write it should surely be found soon.
Réunion
Réunion (formerly Bourbon Island) is a volcanic island in the Mascarene Archipelago, located in the Indian Ocean, 800 km east of Madagascar, and west of Mauritius.
This mountainous island enjoys a tropical climate; if the "Piton des Neiges" is an extinct volcano whose collapse has created cirques, the "Piton de la Fournaise" is still active and the authorities must monitor its awakenings.
After a few landings and the visit of the French, it was in the middle of the 17th century that the first settlers settled, who after the creation of the India Company, were quickly joined by others.
Then the cultures of coffee, vanilla and sugar cane developing, many slaves arriving from Madagascar and the African coasts will come to populate the island.
When slavery is abolished, people from southern India will come to work in the sugar cane fields. In 1946 Reunion became a French department and is therefore today one of the Outermost Regions of the European Union.
Poem translated into reunionese (524 languages)