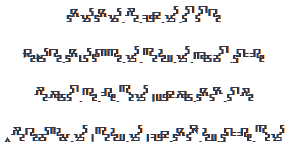 La Glace Copyright ©
Kituba poem, translated by & voice Alice Blanchard
Audio

My love poem in munukutuba (kituba, kikongo) has all the heat and rhythm of your dances. Pretty poem, African woman, look at your image in the reflection of the water of the Congo river, or in the mirror of this munukutuba poem, and do it fast, because it evaporates like the water of your river, heated by the sunshine! The kituba is a creole of the kikongo spoken by 7 million people, in both Congos, in Angola and Gabon. It is a language that has prevailed over many dialects, notably because of trade. For fun, I put here this Bantu language in the mandombe syllabary invented by David Wabeladio in 1978, because it is rather pretty and will really change of the usual Latin letters.
With latins letters
Kizizi ya nge na talatala
Kele nzimbu ya munu ya kulutila kitoko
Kasi sala mbangu, yau ke ku zimbana
Yau kele mu zola nge, ya munu, ya mansukina.