West chaga love poem
Kivuli kyafo lee kikei kiooni
Nyi utenzi oko bora
Lakini lee fanya haraka kupotea
Ewe nyo mwisho "ngikukunde"
Translated into Kibosho by joyce mataruma wakete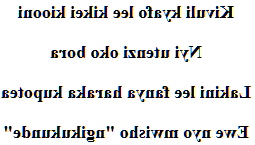 A Chaga woman
Little translation in kibosho (west chaga, west kilimandjaro, bosho, kiwoso) of my poem. One of the Bantu languages spoken by the Chagas.
The Chagas
The Chagas live in Tanzania at the foot of Kilimanjaro. They are the descendants of various Bantu groups who have emigrated to this region. There are some chagas dialects, often they are not mutually inter-comprehensible, especially between those of the east and the west. Very early inhabited, Tanzania is a high place for prehistory. The first occupants remain groups related to the Bushmen or the Hottentots. Repeated waves of settlement followed. Its landscapes are magnificent and tourists have a lot to do in front of, the beauty of Meru and Kilimanjaro mountains, and the majesty of Tanganyika, Rukwa and Malawi lakes.
La Glace © Copyright & Contact: Richard Bellon
http://love.poem.free.fr/southern-african-poems/west-kilimanjaro-poem.html
Poem translated into Kibosho (481 languages)