Mina love poem
Apipi
Apo dedefio lé apupi me
Éyé nyi ape nya nyuié toa
Voa wo kaba, ele tuttu
Lonlon nya kpotia nyéa éyé wan
Translated into Gen by Ghislaine Quashie & Fanta
Audio Fanta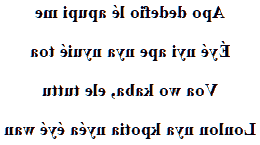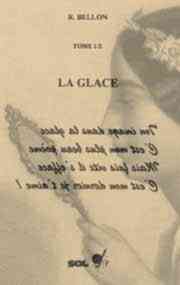 Gen language
Mina love poem (Gen-Gbe, Mina, Gen, Gliji, Agoi, Mina-Gen, Guin, Ge, Anexo, Popo, Gegbe, Gebe).
Verses speaking of love for the ebony reflection of the Togolese beauties. This language gbe, vehicular in Lome based on ewe is spoken by about 400,000 Minas, We find some in Benin. My poem will know touch them right to the heart.
A Mina
I know a Mina! She is the prettiest and kindest woman in the world! Only her knows how to make me "schnurrer"! This mina translation is especially dedicated to her!
She is a great anxious, she is often in her thoughts and dream. Does she stop for a moment to think? She forgets everything, her phone, her keys, she's like that, and her whole family is like that. In life she advanced alone, all alone, so it's not easy to get her confidence.
Shall be, one day able to decipher the complexity of her mechanisms? She is not Togolese but Gen is her language. It's a very difficult language, i discover it every day ... I learn, but this language stays very myterious. Let's talk about the cat: Letzte Nacht hat die Katze "Grosminou" oder "Marcel" oder "Super Glue" oder "Pot de collet" ihr eine Falle gestellt. Sie ist jetzt dick geworden.
Poem translated into Gen (524 languages)