Turkmen love poem
Aüna
Aünada seniň şekiliň,
Meň demimiň iň gowy setirleri-
Gyssan! Yitermi,öçermi!
Soňky duügularyň ykrar etmesi.
Translated into Turkmen by Leila & Kamila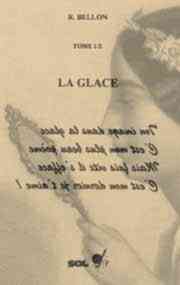 The muse & her language
Turkmen (Turkoman, Turkhmen) translation of my love poem. This Oghuz language, close to Azeri and Turkish, is spoken by 8 million people. Is the muse Turkmen? Yes of course! She exists, this Turkmen-speaking woman, who will one day read me. I have in my pocket other pieces of paper to give her. They are well folded as to protect their words. These words are in an unknown language, that only her will understand.
This Oghuz language, akin to Azeri and Turkish, is spoken by 8 million people. Turkmen, is an Altaic language of the Turkish language group, spoken in Central Asia in Turkmenistan, where it is a national language, by the Turkic people the Turkmen.
Turkmen, which is therefore a Turkish language, is spoken in Turkmenistan (capital Ashgabat). Since 1992, with the fall of the Soviet empire, Turkmen, has become the official language of a state.
We have few documents about the old Turkmen. Written literature begins only in the 18th century, with a language not yet fixed. The standard language, based on the teke dialect, of the Ashgabat region, dates from 1938. The Turkmen will use, the Arabic, Cyrillic and Latin scripts to write their language. The main dialect is teke. We can also mention three other dialects: yomud, ersari, turkpen.
Turkmen people
Turkmens are Turkish tribes, whose empire, located in the middle of the steppes of Asia, collapsed in 744. Some of them will migrate between the rivers Urals and Syrdaria. They will found, in the 10th century, the Seljuk dynasty, and an autonomous state. In the 11th century, they will leave this region to go further west. Their current descendants are Turkish from Khorasan, Azerbaijan, and Turkey. The majority of Turkmen speakers are not the descendants of these migrants (Seljuk).
During the Mongol conquest in the 13th century, the rest of the Oghuz tribes will be pushed to the Karakum desert, and the eastern Caspian. In the 16 th century, groups will migrate, to what is now Turkmenistan (Khorezm), and to Khorasan, absorbing the Iranian and Turkish populations. The most important migrations, date from the 17th century, and in the 18th century, the geographical area of Turkmenistan will be that of today. The Russian conquest will push many groups, to leave for Iran and Afghanistan.
Turkmenistan in central Asia, has a very ancient history, which known great civilizations: Parthian kingdom, Seljuk empire, Urgench empire. Every where you will find historic mouments attesting it. Silk Route passed through Turkmenistan which was at the cossroad of East and West, Roman legionnaires and Genhis Khan. Turkmen is related to Turkish.
Poem translated into Turkmen (523 languages)