Rapanui love poem
He hopelʻa ʻo toʻoku haga rahi.
E horuo koe, o garo
E haga rahi, o te poema
Tuʻu a ta, ʻa roto i te hiʻo
Translated into Pascuan with rongorongo writing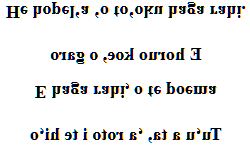 Really unusual
To be translated in rapanui, with the rongo-rongo system, is really unusual, and i am very proud of this translation. The word "poema", is spanish, because, as in many others languages the words "poem" and "mirror" don't exist.
Pascuan and rongo-rongo
Pascuan is the language of the natives of Easter Island (East Island). There is perhaps only 800 speakers who speaknd it. That is to say if this Polynesian language of the east is in real danger. The

rongo-rongo writing system, must be read in starting with the last line, then in the other direction by returning the support ... And so on. The rongo-rongo is not the normal writing of pascuan, but I am amused to write it like this, to talk about this system of glyphs discovered on Easter Island in the 19th century. Easter Island is known for its giants stones: "moai". For lack of materials, wooden statuary was much more modest than elsewhere.
La Glace © Copyright & Contact: Richard Bellon
http://love.poem.free.fr/american-poems/rapanui-poem.html
Poem translated into rapanui (482 languages)