Puinabe love poem
Uyam
Maya uyamjaa ora
Jaji naa papera,
Mawairig jasicum mūynūg,
Ovön jabeyu naa majeuyu mumoyu
Translation Puinabe by Luis Cuiche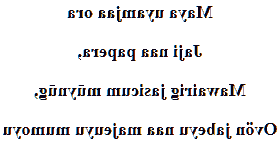 Puinabe language
Puinave (Puinabe, Guipuinave, Guaipunavos, Wonsüht, Guaipunavi, Guaipunabi, Waipunavi, autonym Wãnsöhöt Yedöhet (language of the bitter tree people)) is a Native American language considered as endangered. There are no more than 3,000 Wãnsöhöts speaking it in Venezuela and Colombia between Orinoco and Inírada, Guaviare. Its classification is uncertain! Most often linguists consider it an isolate, and for others it would be part of the Maku languages.
Puinave people
Most of the Puinave Indians (Guaipunare, Puinabe, Uapi, Wantyinht), live in eastern Colombia between Guaviare and Inírida rivers, in the departments of Guaviare, Vichada, and Guainía. They also live in Venezuela, near the Orinoco ... The translator of my poem is from Puerto Ayacucho, State of Amazonas, Venezuela, so I pointed the map to this place! The Puinave people, originally semi-nomadic, continue to live on their ancestral traditions (rites, social organization, cosmology, medical practices, coillette, culture and fishing), even if the process of cultural assimilation, especially since 1 century, is obviously very important.
La Glace © Copyright & Contact: Richard Bellon
http://love.poem.free.fr/american-poems/puinabe-poem.html
Poem translated into puinabe (480 languages)