Puinabe love poem
Uyam
Maya uyamjaa ora
Jaji naa papera,
Mawairig jasicum mūynūg,
Ovön jabeyu naa majeuyu mumoyu
Translation Puinabe by Luis Cuiche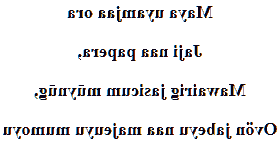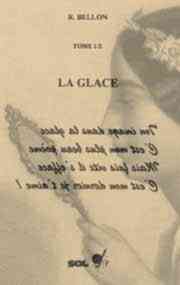 Puinabe language
Puinabe (other names : Puinave, Puinare, Wanse, Guipuinave, Guaipunavos, Wonsüht, Guaipunavi, Guaipunabi, Waipunavi, autonym : Wãnsöhöt Yedöhet (language of the bitter tree people)) is a Native American language considered as endangered.
There are no more than 4,000 Wãnsöhöts speaking it in Venezuela and Colombia between Orinoco and Inírada, Guaviare. Its classification is uncertain! Most often linguists consider it an isolate, and for others it would be part of the Maku languages.
Wãnsöjöt, to designate the people means those of the clan of the bitter tree, but serves more to designate the language. Between them they are called rather Epinet (the people), but we also find Puinabe, Guaipuño, Uipi, Epined, Puinavis, Uaipunabis and Guaipunavos.
In the twentieth century, with the arrival of other Indians, Creoles, gold seekers, and people displaced for rubber on their territory, Spanish imposed itself, but their territory was recognized as a reserve.
The puinave language, despite the Spanish which also penetrates their territory through the media, retains a good vitality. It remains at home, the language used on a daily basis, and in Colombia, the government begins to implement actions to preserve the indigenous languages.
In any case, to find it filiation is very disputed, and many agree to classify it as an isolate language.
The Nsöjöts
The Nsöjöts (Wãnsöjöts, Puinavians) would be an independent group, with a bit of Macú lineage, mixed with groups living in the Inírida basin.
They lived for hundreds of years on the side of the Inírida river basin, in the department of Guainía, then in the twentieth century, some moved to the Brazo Amanavén and Orinoco.
Today, most of the Puinavian Indians (Guaipunare, Puinabe, Uapi, Wantyinht), live in eastern Colombia between the Guaviare and Inírida rivers, in the departments of Guaviare, Vichada, and Guainía.
They are also found in Venezuela, near the Orinoco ... The translator of my poem is from Puerto Ayacucho, State of Amazonas, Venezuela. I pointed the map to this place!
The Wãnsöjöts are traditionally semi-sedentary people who profit from hunting, fishing and the small patches of the Amazon rainforest that they have cleared.
The Puinave people, originally semi-nomadic, continue to live with their ancestral traditions (rites, social organization, cosmology, medical practices, picking, culture and fishing), even if the process of cultural assimilation, especially for a century, obviously, is very important.
Among them, myths, shamanism and their symbolic traditions have in fact been eroded in most of their groups by the missionaries. Their ritual, the Yuruparí, is similar to that of the Arawaks.
Their twenty eight clans, which are patrilineal and exogamous, know how to forge alliances with neighboring ethnic groups.
Poem translated into puinabe (523 languages)