Yatê love poem
Sa nankya
I aanankya sa nankya ke
Ta ike ktshalene kakneka
Khonefãw, fasnew, ethunekke
Ya tuthnise uxinkya kehle.
Translated into Yatê-Fulniô & voice by Cícero de Brito cacique do povo Fulni-ô.
Audio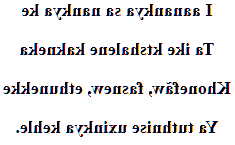 Yaathe language
Yatê (yatê-fulniô, yaathe, yahthe, fulniô, carnijó, carijó, fornió, furniô), autonym ia-tê, is an isolated language from the region of Águas Belas in Pernambuco state, Brazil. There are two fulniô dialects, which are really very close, yatê and fulniô. These two dialects, count together, not more 3,000 speakers.
Fulni-ô people
The Amerindians of Águas Belas were the Carnijós (Carijós), and it was probably during the displacement of populations to constitute villages, that some groups merged and took the name Fulni-ô. Among the Fulni-ô, the Ouricuri ritual remains important. This ritual takes place in August, it is sacred and secret, even if foreign visitors can observe certain dimensions (for example the separation of men and women).
La Glace © Copyright & Contact: Richard Bellon
http://love.poem.free.fr/american-poems/yaathe-poem.html
Poem translated into yaathe (482 languages)