Tz'utujil love poem
Tz'atiik kaybal
Akayib'aal chupaam patz'atiik
Qas jub'el pach'un tziij
Tajapunk'a aq'iij, xin q'axk'a
¡Xara jun k'isb'al "katinuajo"!
Translated into Tz'utujil by
Leonel Caniz
Universidad de San Carlos de Guatemala sede central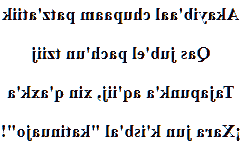 Tz'utujil language
The Tz'utujil language (Tzutujil, Zutuhil, Tzutujil Oriental, Zotonil), is a Quichean Mayan language (close to K'iche' and Kaqchikel), spoken by 80,000 people in the southern region of Lake Atitlán in Guatemala. There are four main variants, this one comes from Santiago Atitlán. In some municipalities, tz'utujil remains the spoken language and Spanish the extra-community language of exchange.
The Tz'utujils
The Tz'utujils belong to one of the many Mayan groups of Guatemala. They live in the southern region of Lake Atitlán. Their establishment in this territory is old and seems to date back to the post-classical Mayan period. Tz'utujil weaving, painting and sculpture are renowned, and they still retain traces of their culture even if their Hispanization is already very real.
La Glace © Copyright & Contact: Richard Bellon
http://love.poem.free.fr/american-poems/tzutujil-poem.html
Poem translated into Tz'utujil (480 languages)