Mam love poem
Atzu spej
Aj tilb'ilala tuj spej
Atzo jun weye tb'anil npak'ab'
Ex kaxa, ch'ix tel naj
Atzo mankb'il "k'ujla'na wu'ne.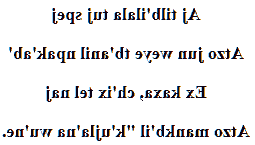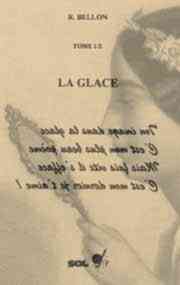 Mam language
Mam (Kyol, Qyol, Qyool, B'anax, Mam Marquense, Mam de la Frontera, San Juan Ostuncalco Mam, Mamé, Central Mam, Mam del Norte, Mam de la Sierra, Western Mam, Mam Quetzalteco, Mam del Sur, Ostuncalco Mam, Todos Santos Mam, Southern Mam, Tacanec, Quetzaltenango Mam, Huehuetenango Mam, Mam Occidental, Tiló, Tajumulco Mam, Comitancillo Mam, Todos Santos Cuchumatán Mam, Mam del Soconusco, Tacaneco, Tacaná Mam, San Marcos Comitancillas Mam), is a Mayan language from departments of Quetzaltenango, Huehuetenango, Retalhuleu, and San Marcos in Guatemala, and in several cities in Chiapas, Mexico.
This translation is in Central Mam, that is to say in the Mam variant spoken in the department of San Marcos. The three other dialects of this language are northern, southern and western mam.
Mam is a language close to Tectitec (Tektiteko). If we count all its four dialects, the Mam language is spoken by approximately 1,200,000 people.
It is one of the languages with the largest number of speakers, over the largest area in Guatemala, it is one of the four major Mayan languages in this country.
Mam people
Guatemala is a multi-ethnic country (Mayan, Xinka, Garifuna and Spanish), it is also multilingual, reflecting this multiculturalism.
Mams are one of the largest Mayan community in Guatemala. It was in 1895 that this community was split in two, due to the establishment of the border, between Mexico and Guatemala.
As for many other Native American peoples, their cosmovision is linked to the harmony between all things of the earth and the sky. The numerous ceremonies which they practice in this way, demonstrate it.
They are often farmers and this since very ancient times. The Spaniards, who considered them excellent for working the land, used them in various territories of their empire.
Poem translated into Mam (523 languages)