Woun Meu love poem
Chi espheg
Pu khiin oochirum dich oojem ee
Mag iek wajapha jauchirumau
Mamu jupai aba, chugpa junawe
¡purig iek jawaag "Pu khochag chirum"!
Translation Wounmeu by Blacho Moya Chagpier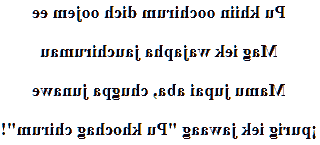 Wounmeu language
The Wayúu language (woun meu, wounmeu, woun meo, wounaan meu, noanamá, chocó, waumeo, waun meo, waunana, waunméu, waunán), is a chocoan language, spoken in Panama and Colombia in the Chocó region, by a total of 10,000 people.
Choco people
Originally hunters (blowpipe), gatherers, semi-nomads, the Chocos (Embera and wounaan), live in a very humid forest region. Today hunting and fishing are the prerogative of men, while women take care of agricultural crops (maize, cassava, bananas) and make baskets and pottery. Their clothes (pareo and shirtless), and their habitat often remains traditional (wood and thatch).
La Glace © Copyright & Contact: Richard Bellon
http://love.poem.free.fr/american-poems/wounmeu-poem.html
Poem translated into wounmeu (480 languages)