Wayuunaiki love poem
Nia rouyakai
Tü puyakua>ka sulű tu rouya>ka,
Shia tü anachonsû pütchi ashajushi,
Maa>ya cacuwa pia, amoutasű¡
Niai>chia chiirruajachi "pia tachekaka"
Translation & audio Wayuunaiki by Jorge Luis Gonzalez Gonzalez
Audio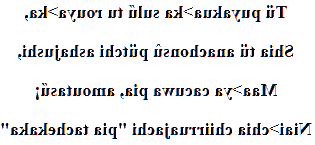 An other version
E'rouyaa
Piyoluja sünain e'rouyaakat
Nia sa'anasia tanüiki
Püshapataa, amoutajaasü
¡Nia süjattia "aisü tapüla"
Translated into Wayuunaiki by Luis Fuenmayor
Wayuunaiki language
The Wayúu language (Goajiro, Uáira, Wahiro, Waiu, Wayu, Wayú, Guajira, Guajiro, autonym: Wayuunaiki) is a language of South America, of the North Arawakan family, and from the Maipuran subgroup. This language is spoken around the Guajira peninsula (in the Caribbean Sea), between Venezuela and Colombia by around 400,000 people. Historically, as for many other languages, the tradition was oral, and it is with the contact of colonizers that the language has begin to be write with the Latin script.
Guajiro people
The Guajiros (Wayuu, Wahiro, Wayu), are Amerindians who live in the Guajira peninsula, Colombia (Guajira department) and Venezuela (Zulia department), since a border separates this peninsula in two parts. If the Spaniards never succeeded in subduing the Wayuu, "modernity" will have harmed their territory ... A massive deforestation, contributed to modify the rainfall in their ancestral land by desertifying it ... Exploitation coal mining will also have transformed the landscape.
La Glace © Copyright & Contact: Richard Bellon
http://love.poem.free.fr/american-poems/wayuunaiki-poem.html
Poem translated into wayuunaiki (482 languages)