Kekchi love poem
Li Lem
Laa jalam u sa li lem
A'an lin ch'ina usil uutz'u'jinb'il ru aatin
Ab'anan seeb'a aawib' xb'aanaq na sach
¡a'an li xraqb'al xyeeb'al "naq nakatin ra"!
Translated into Q'eqchi' by Victor Rolando Caz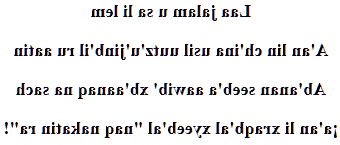 Q'eqchi' language
Here the translation of my love poem in Kekchi (K'ekchi', Cacche', Kekchi', Ketchi', Quecchi'), here in the dialectal variation of Cobán. This Amerindian language from central Guatemala, is a language of the Mayan group of languages, close to Quiche. This language has about 900,000 speakers, some in Belize, Mexico and Salvador.
The Kekchi
Before the arrival of the Spaniards, Kekchi people occupied the territories of the Alta Verapaz and Baja Verapaz. Different groups moved to other regions to escape them. Subsequently, many have been dispossessed of their land due to the extension of plantations.
La Glace © Copyright & Contact: Richard Bellon
http://love.poem.free.fr/american-poems/kekchi-poem.html
Poem translated into kekchi (482 languages)