Tektitek love poem
Te eb'il
Awitzb'alil tuj te eb'il itzb'alil
Aji jun tb'anil mpakab'
B'an tzan stzaj asak'sb'e
¡ aji te nyol "taq'el wanim" !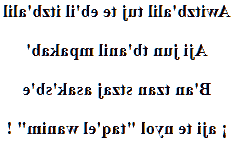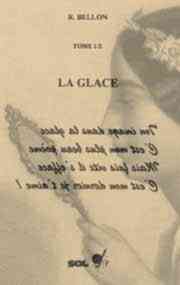 Tektitek language
Tektitek love poem (Tectiteco, Tektiteko, K'onti'l, Tujqyol, Tectitán Mam, Qyool, Maya-Tekiteko, Tektiteko, Teco, Teko, Tectitec, Autonym : B'a'aj).
Tectitec is the Quiché-Maya language of the western Mam language group, of the Tektitekos, who live in Tectitán, Tacana, San Marcos, Cuilco, in the department of Huehuetenango in Guatemala.
There is also a community of Tektitekos on the other side of the border, which is very close, in Mexico.
The Tectitec which is quite close to the variant of the western Mam language. It is spoken by the smallest Mayan community in Guatemala (in number), around 2,000 people, and is currently considered endangered.
In fact, the Spanish conquest, like for all the other Mayan languages, relegated Tektiteko to a purely oral domestic use.
Despite everything, it is one of the 21 languages recognized by the Academy of Mayan Languages of Guatemala, and an alphabet has been created to write it, with the aim of preserving its cultural value.
The Tektitek alphabet is : A, g, I, K', L, M, N, P, Q, Q', R, S, T, TX, TX', TZ, TZ', T', U, W, X, XH, Y
In Mexico there are almost 1,000 Tectitecos. The total number of speakers for this language is estimated to 2,000.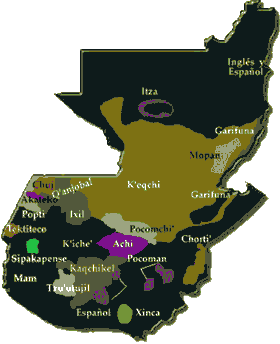 The Tektiteks
Tectitán is a town in the southwest of the department of Huehuetenango, itself in the west of Guatemala.
Originally, the Tektiteks are Mams who came to settle around Tectitán at the time of the Zaculeu empire.
In the Hispanic times, Tectitán was called Santa María Magdalena Tectitlán, mostly populated by those descendants of Mam culture who came to settle in this region.
The Tectitecos are most often producers of ceramics, basketwork and woolen and cotton clothes that they weave and dress them.
Poem translated into Tektitek (524 languages)