Kirirí love poem
Kotipwêruê
Piracini kotipira kotipwêruê nobi
Zini gonengo noiran
Keru, mopi mobin, taipe kinaw
Zi nennen biá kesty, "zi yuaka piraci".
Translation & audio
Xucurú
Ridivanio Procópio da Silva
Audio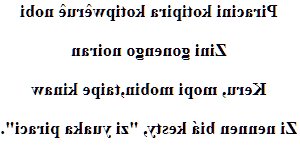 Xukuru language
Here is a translation of my poem in xukurú (xucuru, ichikile, shukurú, kirirí, kirirí-xokó, xukuru-kariri). This isolated language from the state of Pernambuco in Brazil, around the city of Pesqueira, is now extinct. The Xukurus (around 9,000 people) who speak Portuguese are trying to revitalize their language by teaching it.
Xukuru people
Xukuru are the natives of Serra do Ororubá in the state of Pernambuco in Brazil. They are often farmers and ranchers, and live in a very fertile region crossed by many rivers. Beans, cassava, corn, bananas, as well as dairy farming and many vegetables, are among their main productions.
La Glace © Copyright & Contact: Richard Bellon
http://love.poem.free.fr/american-poems/xukuru-poem.html
Poem translated into xukuru (472 languages)