Bhojpuri love poem
तोहार चेहरावा शीशा में,
हमार बहुत बड़का कविता हवे!
लेकिन, बड़ा जल्दी ये खो गियल,
अंतिम में हम तोहरा से प्यार करे नी
Translated into Bhojpuri by Rajat Kant Singh
Audio Manoj Bihary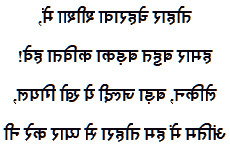 A transliteration
tohaar kehraavaa shishaa men,
hmaar bhut bdaa kvitaa hve!
lekin, bda jldi ye kho gaiyl,
antim men hm tohraa se pyaar kre ni
Bhojpuri
Translation into Bhojpuri (Bajpuri, Bhojapuri, भोजपुरी) the dialect of Bhojpur, related to the bihari. This dialect has spread to the area between the southern border of Nepal and Chota Nagpur to the north, from Benares and Patna in the west to Ranchi in the east. There are about 44 million speakers who make it live through a very lively oral literature. Bhojpuri poem, can be also understood, by the diaspora in Nepal, Mauritius, Trinidad and Tobago, Guyana, Suriname, Fiji. There are several variants and its writing system which was the Kaithi is now replaced by the devanagari. For the kaithi, be curious, you will easily find out, to what it looks like. An important part of the oral bhojpuri literature will be set in the 19th, they are ballads, songs, tales and dramas.
The Bhojpuris
The Bhojpuris are a group of the Indian subcontinent, who live in the Bhojpuri-Purvanchal region straddling the Indian states of Uttar Pradesh, Jharkhand and Bihar. It's also important to mention a whole diaspora spread across many countries.
La Glace © Copyright & Contact: Richard Bellon
http://love.poem.free.fr/indian-poems/bhojpuri-poem.html
Poem translated into bhojpuri (482 languages)