Tzotzil love poem
Nen
Li alok'ol ta nene
Ja' li toj k'upil sba jnichimal k'ope
Sujo me aba, ta xtup'
¡Ja' li slajeb "jk'anojote"!
Translation & audio Tsotsil (Bats'i k'op) Juan Bolom
Audio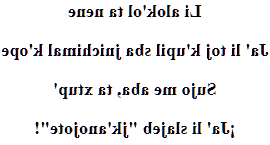 Bats'i k'op language
Here is the tsotsil version of my poem (tzotzil, bats'i k'op), a Mayan language from the state of Chiapas in Mexico. Here it is the dialect spoken in San Andrés Larráinzar.
The Bats'i k'op which belongs to the tzeltal-chol group of Mayan languages is spoken for all of its different dialects (San Andrés Larráinzar, Huixtán, Chamula, Ch'enalho', Venustiano Carranza, Zinacantán), by around 400,000 people.
This language is close to Ch'ol and Tzeltal, the proto-Ch'ol of the late classical period is its ancestor.
Tzotzil
Linguistics and archeology seem to indicate that the ancestors of the Tsotsils arrived in Chiapas between -100 and 300. During the Aztec period, they sent salt, amber and quetzal feathers to Tenochtitlán the Aztec capital.
La Glace © Copyright & Contact: Richard Bellon
http://love.poem.free.fr/american-poems/tzotzil-poem.html
Poem translated into Tzotzil (482 languages)