Paipai love poem
Jl´ubu ha
Maay jl´ubuhal mѓpoob
Ñe kwawu ksnech rab,
Yus wamyiibka, ѓmarbchum
"Jan ñi i´iwu" ñikakwaach!
Traduit en paipái (Akwa'ala, Jaspuy pai) par Armandina Gonzalez
Audio Armandina Gonzalez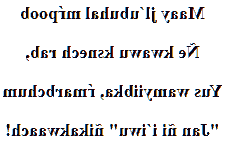 Paipai language
Love poem translated into paipai (akwa'ala, jaspuy pai), a yuman language spoken by 100 to 200 people in Mexico, near Ensenada, in Baja California. Because of a very low number of speakers, an ethnic group a little scattered and because young people give up the advantage of Spanish, the paipai language is in real danger.
The establishment of the language in Baja California is certainly not very old, because the paipai is a north Yuman language that was formerly found in Arizona to the Colorado Delta and the Pacific Ocean. The oral tradition of the generations suggests that the origin of the Paipai would be the mountains Avi Kwa 'Ame in Nevada on the border of Arizona.
La Glace © Copyright & Contact: Richard Bellon
http://love.poem.free.fr/american-poems/paipai-poem.html
Poem translated into paipái (472 languages)