Pijin love poem
Fes blong iu lo miro
Hem barava fevaret stori blong mi
Bat iu mas kuik taem bifo hem disapia
Hem last taem blong mi, mi barava lavem iu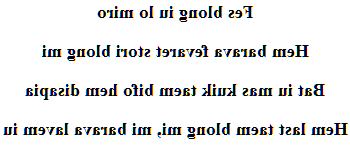 The Pijin
Translated poem into Solomon islands pijin (Neo-Solomonic, Solomons Pidgin), a creole based on English and close to the papuan tok pisin. My little love poem into Pijin (Pidgin) will be understood by 400,000 people, pijin is the communication language of the Solomon.
The Pijin of the Solomon Islands is a Pidgin appeared on the plantations, where Melanesian workers were found supervised by English speakers. Its stable form dates only from 1920, and little by little it settles like a Creole in the Solomon Islands.
Solomon Islands
The Solomon Islands are famous for their wooden containers in the shape of birds or fish, wich have remarkable purity of lines. Inlay of mother-of-pearl illuminate these objects painted in black. The Solomons ex-Bougainville seceded from Papua, when it took its independence in 1975. This independence having not been without internal clashes and problems boosted by tribal rivalries and irredentist currents.
La Glace © Copyright & Contact: Richard Bellon
http://love.poem.free.fr/oceanian-poems/pijin-poem.html
Poem translated into pijin (482 languages)