Tuvaluan love poem
Kilo
Tou ata i te kilo
Ko taku toe lagi gali
E vave foki o matafi
Ko taku toe pati "aualofa mo koe"
Translated into Tuvaluan by Sei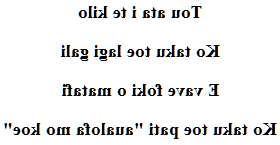 Tuvaluan language
Tuvaluan (Ellicean), is the national language of Tuvalu (Ellice) (capital Funafuti). Only 13,000 people in the world will be able to understand this translation of my love poem into tuvaluan.
The Tuvalu
Tuvalu (ancient Ellice) is an archipelago of 9 atolls located in the heart of the Pacific Ocean. It is one of the smallest states in the world (24 km2), and its Polynesian language, is considered in danger. Tuber crops, a small coastal fishery and a few exports of copra are insufficient resources for its densely populated population. A part of the Polynesians who live there must be expatriated. The sale of stamps collection is an important resource.
La Glace © Copyright & Contact: Richard Bellon
http://love.poem.free.fr/oceanian-poems/tuvaluan-poem.html
Poem translated into tuvaluan (481 languages)