Kosraean love poem
Lomom ke selnguhn ah
El pa kahs in pupulyuk kato se emet luhk
Tusruk, silaklak met liki wanginla
Pa ingen "Nga lungse kom" safla luk nusum!
Translated into Kosraean by Jessica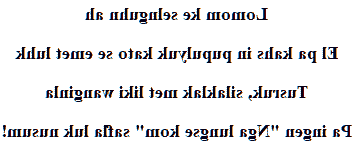 Kusaie language
The poem translated into the Micronesian language (Austronesian) of Kosrae island (Kusaie), the Kosraean (Kosrae, Kusaiean, Kusaie, Lelu-Tafunsak, Malen-Utwe), which count 8,000 speakers. A translation into Strong's Island is the easternmost island of the Caroline Archipelago (109km²), and one of the four Federated States of Micronesia.
Her language
The kusaiean is her language. Like her, it is Micronesian and shares a good percentage of vocabulary with the languages of the neighboring islands, for example with the Ponapean ... Like her, it is Micronesian and shares all the traits inherited from the origin and long voyages on the ocean ... All these traits then fixed by lazing in the sun, filtered and softened by coconut milks.
La Glace © Copyright & Contact: Richard Bellon
http://love.poem.free.fr/oceanian-poems/kosraean-poem.html
Poem translated into kosraean (482 languages)