Saraiki love poem
Sheesha
Tedi tasveer sheeshay wich
Ae medi pasandeeda nazm hay.
Jaldi kr Ae gayab thi wesi.
Me teku pyar karenda
Translated into Saraiki by Haider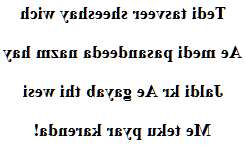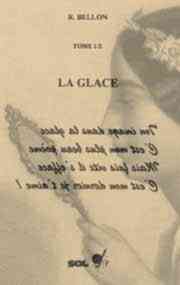 Saraiki language
A Saraiki love poem (Belochki, Seraiki, Siraiki, Bahawalpuri, Jatki, Khatki, Multani, Mutani, Reasati, Bhawalpuri, Derawali, Jafri, Jangli, Riasati, Riasiti, Siraiki Hindi, Southern Panjabi, Thali, Autonym : سرائیکی).
There will still be 20 million speakers of the Saraiki language in Pakistan, North Sindh and eastern Balochistan, able to understand this translation.
Seraiki is considered by some to be a dialect of Punjabi, a language spoken in two countries, Pakistan and Afghanistan.
Nevertheless, this language, which has borrowed a lot from Arabic and Persian, tends more and more to separate from Punjabi, especially because of the great influence of Sindhi.
The level of lexical similarity between Saraiki and Sindhi is 85%. If it dialect origin is not questioned, this lexical similarity, shared with Sindhi, calls into question, in its current state, this appellation of dialect of Punjabi.
The Saraikis, also called Mutanis, have a long tradition of poetry. There are many poets in their ranks, each more famous the other, for example Abdul Wahab Farouqi alias Sachal Sar Mast.
Although widely spoken in Pakistan, this language still has no official recognition. The script used to write it is usually the Persian script.
The Saraikis ... and Sindh
The Saraikis live in the Indus region of Pakistan in southern and central Punjab.
For some history of the region: There were first, a very long time ago, populations who entered through Assam and Bengal, in Hindustan, and will go until the Indus. These populations were different ethnic groups: Manda, Kolari, Kol, Santhal and Gawanda. Then around -3,500 the Darawars came to settle in the Sindh, a region which was quite vast.
Two millennia later, around -1500, arrived the Aryans, warriors whose origin is disputed (banks of the Caspian, Iran, China), who replaced the Darawars a much more peaceful population.
Long ago, the Indus valley made of rich and well irrigated land, will see the beginning of agriculture in this region (beginning of Neolithic here), followed by the development of the Mehrgarh culture.
From -3300, between the Indus and the Harkra (Ghagra), will develop around the city of Harappa, an immense civilization, the Harappan civilization.
Poem translated into Saraiki (524 languages)