Saraiki love poem
Tedi tasveer sheeshay wich
Ae medi pasandeeda nazm hay.
Jaldi kr Ae gayab thi wesi.
Me teku pyar karenda
Translated into Saraiki by Haider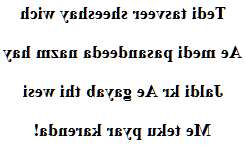 Saraiki woman
My poem in Saraiki (Bahawalpuri, Seraiki, Siraiki), a Punjabi dialect between Pakistan and Afghanistan. There will still be 17 million Saraiki speakers, to understand this poem from North Sindh and East Balochistan.
The Saraikis poets?
The Saraikis, also called Mutanis, have a long tradition of poetry. There are a number of well-known poets in their ranks, such as Abdul Wahab Farouqi alias Sachal Sar Mast. Although widely spoken in Pakistan, this language still has no official recognition. The script used to write it is usually the Persian script.
La Glace © Copyright & Contact: Richard Bellon
http://love.poem.free.fr/asian-poems/saraiki-poem.html
Poem translated into saraiki (480 languages)