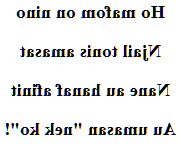 La Glace Copyright ©
Translated into Uab Meto by Stephana Sanith Kono
Audio voice
Uab Meto love poem
Ho mafom on nino
Njail tonis amasat
Nane au hanaf afinit
Au umasan "nek ko"!
Ho mafom on nino
Njail tonis amasat
Nane au hanaf afinit
Au umasan "nek ko"!
Copyright © Bellon Poet http://love.poem.free.fr
A pretty Dawanese woman
When I see all the translations I have in Indonesian languages, I hope that one day a pretty Indonesian woman will show the tip of her little nose to the magic of a starry sky.
Uab Meto language
My love poem translated into uab-meto (Dawanese), the austronesian language of West Timor. This dawan or aton poem is in the language of atoni people which are 1 million. They could understand what my poem uab meto says. Baikenu spoken in East Timor is very close.
Original version and neighboring