Sundanese love poem
Kaca eunteung
ᮊᮜᮀᮊᮀ ᮃᮔ᮪ᮏᮩᮔ᮪ ᮓᮤᮔ ᮕᮍᮤᮜᮧ
ᮕᮥᮄᮞᮤ ᮔᮥ ᮕᮀ ᮈᮔ᮪ᮓᮂᮔ
ᮔ ᮊᮥᮔᮇᮔ᮪ ᮌᮔ᮪ᮎᮀ ᮞᮤᮁᮔ
ᮓᮤᮔ ᮕᮔᮥᮀᮒᮥᮍᮔ᮪ ᮛᮞ ᮊᮒᮢᮨᮞ᮪ᮔ ᮊᮥᮛᮤᮀ ᮊ ᮃᮔ᮪ᮏᮩᮔ᮪
Translated into Sundanese by Atty Rahardi
Audio Ayin Setiawaty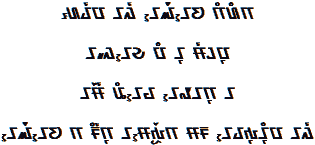 Transliteration from Aksara Sunda.
Kalangkang anjeun dina pangilo
Puisi nu pang endahna
Na kunaon gancang sirna
Dina panungtungan rasa katresna kuring ka anjeun
The most beautiful Sundanese
The translation of my love poem into the language of Soundanese people who live in the western region of Java. Originally the ancestors of the Sundanese came from the Philippines 3,000 years ago. I count on HER, the most beautiful of all the Soundanese girls of the world, to bring me its sweet glance on this.
The Sundanese
Spoken by 20 million Indonesians, the Sundanese (Basa Sunda) is the second regional language of Indonesia. The soundanese script is a really beautiful abugida.
La Glace © Copyright & Contact: Richard Bellon
http://love.poem.free.fr/indonesian-poems/sundanese-poem.html
Poem translated into sundanese (480 languages)