Bengkulu love poem
Foto kau ado di kaco
Iko puisi ambo paling elok
Tapi cepek ilang
Iko yang terakhir "ambo cinto kek kau"
Translated into Bengkulu by Afrita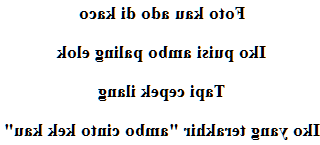 Bengkulu woman
Bengkulu (Central Malay), an Austronesian language spoken by the (pasemah, besemah) populations of Indonesia. Bengkulu (central Malay) from the city of Bengkulu in the south west of Sumatra. Pasemah, Besemah, Central Malay are the other three names given to Bengkulu a form of Malay as there are so many in Indonesia. There are about 2 million people which speak it.
Bengkulu
Bengkulu, formerly Benkulen or Benkoelen, is the largest city in southwestern Sumatra and in the past was an important region for pepper trade. It is today a place like many others in Indonesia very popular with tourists.
La Glace © Copyright & Contact: Richard Bellon
http://love.poem.free.fr/indonesian-poems/bengkulu-poem.html
Poem translated into bengkulu (480 languages)