Buginese love poem
Wajowajomu ku cammingnge
Iyanaritu sajaku ye malebbie'e,
Tafi cinamppemi bawang nappa lenynye,
Yanae pappoji paccapurekku rilaleng tuoku.
Translated into Buginese by Mila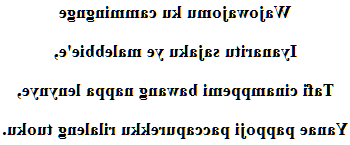 Buginese language
My love poem in its buginese version, a Malayo-Polynesian language of Indonesia. This language of the Indonesian group spoken in the south of Sulawesi (Sulawesi) serves as a language of relation in the region. The bugi is spoken in Celebes in South Sulawesi by 4 million people. It has his own writing (lontara) which is really beautiful. Do a search to see what it looks like. Perhaps someday someone will send me this translation in this pretty alphasyllabaire.
Bugi
The Bugi (Bugis) represent the largest ethnic group for the number, in the north of Celebes.
They are famous to have during long time wrote their language on palm leaves. It is believed that at the origin, Bugis were Toradjas people, a tribe that would have split into several groups of warriors, each one controlling a kingdom (Makassars tin Goa, and Bugi in Boni).
If the Bugis (Buginese) have preserved their rites and traditions, those are still tend to fade!
La Glace © Copyright & Contact: Richard Bellon
http://love.poem.free.fr/indonesian-poems/buginese-poem.html
Poem translated into buginese (482 languages)