Nobiin love poem
Kolonni
Inna sora kolonir nalsi
Anna doltiwara na sertote teraa
Ter gowanan ma bedabosi
I akher mara ikki bewaiteri "I ikki addoliyaa"
Translated into Nubian (Kenzi) by Om Abdallah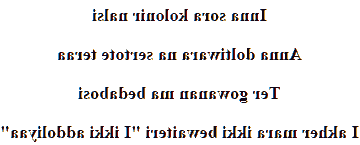 The Nobiin
Translation into Nubian (Kenzi, Mattokki, Kenuz, Kenuzi, Kenzii, Kunuz, Kunuzi) of my love poem. Here it's in kenzi (Mattokki), and this translation come from Egypt. 40,000 speakers in Sudan and Egypt, speak this Nilo-Charanian language of the Eastern Sudanese group. The Nubian language (nobiin, mahas) descends in a straight line from the ancient Nubian who was spoken and written six centuries ago.
Written languages
It is in East of Africa that one finds languages that have been written, the nobiin is one of them, it was wrote for millennia. One possesses documents in ancient Nubian, written in an adapted Coptic alphabet, which date from the 8th century.
La Glace © Copyright & Contact: Richard Bellon
http://love.poem.free.fr/middle-east-poems/nobiin-poem.html
Poem translated into nobiin (480 languages)