Wipi love poem
B'hatapnenapu
Moina yop b'hatapnenapu
+n re koina jog tutar e
Aj+ gujak + b'+t+damkis
Koina kikitum e "kon sengi momneng"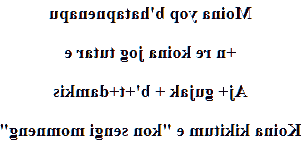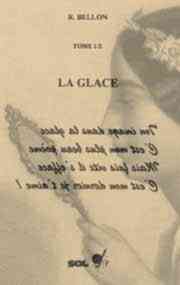 Wipi language
My love poem is here translated into Wipi. The alternative names you will find for the language and its dialects are: Gidra, Jibu, Oriomo, Yuta, Kapal, Guiam, Podari, Woigo, Kuru (uKuru), Wonie, Wipim, Ume, Peawa, Rual, Dorogori, Abam, Gamaewe, Iamega.
The language was first called Jibu from the name of one of the villages or Oriomo (name of a river), then Gidra, which means "those of the bush", a name given by the Bines, a neighboring ethnic group.
This name, with its contemptuous connotation, given by neighbors who hated them, has today been abandoned in favor of Wipi.
Wipi, which belongs to the family of oriental trans-fly languages, is spoken in Papua New Guinea, between the Fly River and the Torres Strait.
The ethnic group which speaks all of its variants has around 3,000 speakers.
Even if we distinguish speech variations between the different villages, we can separate Wipi into two dialect groups. The first brings together the northern dialects, and the second those of the south.
Poem translated into Wipi (524 languages)