North wahgi love poem
Nim piksa minda glas ah
Na wummbol kawiwei eri kawiwei
Eri kamkamwei eh wo sepnda
Eh na yu las na nim mundmong ah ka pis
Translated into north wahgi by jessica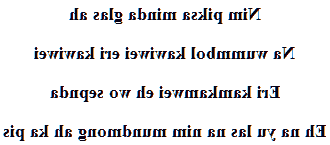 Jiwakan language
My little love poem in wahgi, here in north waghi, a jiwakan language from Jiwaka province in Papua New Guinea (highland area, Mount Hagen). There are perhaps fifty thousand people who speak this chimbu language. The establishment of Jiwaka province is quite recent and its capital is Banz. One must differentiate north wahgi from south wahgi; many words are common, but the dialogue is different.
Globalization nibbles
I will never enough thank my Papuan friends for their precious contribution, their stone to this edifice, which is built day by day. This is a valuable contribution, because, even if their languages are so numerous, they are still much to be discovered, before the globalization that nibbles everything, destroys them slowly.
La Glace © Copyright & Contact: Richard Bellon
http://love.poem.free.fr/papuan-poems/north-wahgi-poem.html
Poem translated into north-wahgi (481 languages)