Verlan love poem
La cegla
Ton magi dans la cegla
C'est mon plus beau emepo
Mais fais viteu il facesef
C'est mon nierder je t'aimeu!
Translated into verlan to astonish her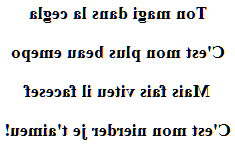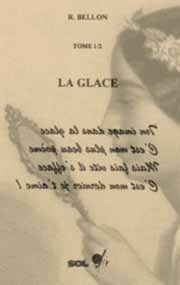 Verlan woman
Astonish her with this verlan (Reverse), a translation of my french mirror love poem. Verlan is a language where people reverse the syllables, a way to give dizzy to the woman which makes turn your head. Verlan is a coded slang that proceeds by inversion of syllables within a word.
If the first traces of verlan date back to at least the Middle Ages, it is with the Great War that it will take a considerable expansion. I put this translation on the silent cemetery of Sedan, where is buried a great great uncle, who died in 1914 during the Ardennes offensive.
La Glace © Copyright & Contact:
http://love.poem.free.fr
Tweet
Poem translated into 427 languages: here verlan