Verlan love poem
La cegla
Ton magi dans la cegla
C'est mon plus beau emepo
Mais fais viteu il facesef
C'est mon nierder je t'aimeu!
Translated into verlan to astonish her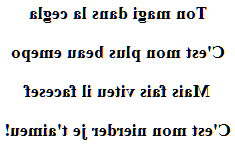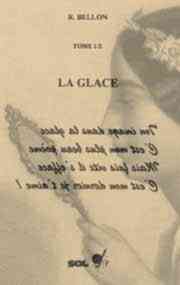 To turn her head
Astonish her with this verlan (Reverse) love poem. A slang translation into inverted syllables to make dizzy the one that makes you turn your head. Show her, she will be all back.
Do Verlan
Verlan is a coded slang that invert syllables within a word. He can use three rules: disyllabisation, inversion and truncation ex: femme femmeu meufe meuf. The ultimate in verlan is to verla again a word that has already been: flic flikeu keufli keuf, which becomes again keufeu feukeu. To practise verlan is old, in the 16th was said Bonbour for Bourbon, in the 16th Sequinzouil for Louis 15, in the 19th Lontou for Toulon.
If the first traces of verlan date back to at least the Middle Ages, it is with the Great War that it will take a considerable expansion. I put this translation on the silent cemetery of Sedan, where is buried a great great uncle, who died in 1914 during the Ardennes offensive.
Poem translated into verlan (524 idioms)