Quenya love poem
Kenea hiellen ne lin-
Quettanya huesta hor mi.
Noro lim! Yallo vaniria! Lurea tupir
Ne melme` ti edrye meltimiae?
Translated into Quenya & voice quenya Azat
Audio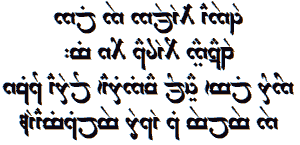 Quenya language
Translation of my short poem into quenya built language (high-elven). (Elfin) the language of elves ñoldor and vanyar was imagined by JRR Tolkien for these stories of Middle-earth. John Ronald Reuel Tolkien is an English writer from South Africa who specialized in medieval literature in Oxford, participating in the revival of the allegory with Bilbo the Hobbit and the Lord of the Rings, which will be world successes.
Tolkien
John Ronald Reuel Tolkien was born on 3 January 1892 in South Africa, in Bloemfontein, at the time of the Orange free State, he died in Bournemouth (United Kingdom) September 2, 1973. He was a great reader with an particular interest for languages. This philologist will deeply mark the literature with the Lord of the rings, a book that will go over the borders. His work will transport his readers into his fantasy world, a world built around a mythology often borrowed from the nordic sagas. It is on Bloemfontein (South Africa), birth place of J. R. R. Tolkien, that points the language.
La Glace © Copyright & Contact: Richard Bellon
http://love.poem.free.fr/constructed-poems/quenya-poem.html
Poem translated into quenya (482 idioms)