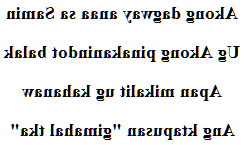 La Glace Copyright ©
Translated into Davaweño by Marih Oroset

Davawenyo love poem
Akong dagway anaa sa Samin
Ug Akong pinakanindot balak
Apan mikalit ug kahanaw
Ang ktapusan "gimahal tka"
Akong dagway anaa sa Samin
Ug Akong pinakanindot balak
Apan mikalit ug kahanaw
Ang ktapusan "gimahal tka"
Copyright © Bellon Poet http://love.poem.free.fr
The Davawenyo
My love poem translated into davawenyo, a bisaya language of the Mindanao provender in Philippines, spoken in Davao. Davaweño (davaoeño), is a language that makes the synthesis between Tagalog, cebuano and other visayas languages. Davao is one of the important cities of the Philippines, it is like many places in the Philippines a top places for tourism.
Original and neighboring