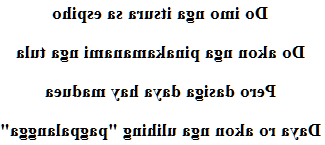 La Glace Copyright ©
Translated into Aklanon by Ing Gracia

Aklan love poem
Do imo nga itsura sa espiho
Do akon nga pinakamanami nga tula
Pero dasiga daya hay maduea
Daya ro akon nga ulihing "pagpalangga"
Do imo nga itsura sa espiho
Do akon nga pinakamanami nga tula
Pero dasiga daya hay maduea
Daya ro akon nga ulihing "pagpalangga"
Copyright © Bellon Poet http://love.poem.free.fr
Aklan language
My love poem translated into Aklanon (aklan, akeanon, panay, aklano), the Visaya language of the Aklan Provine in Philippines, (on the island of Panay). This dialect is similar to malaynon to more than 90%. This poem is in aklan (akeanon, inakeanon, aklano, aklanon-bisayan, panay), it will be understood by 450,000 people.
The Philippines
The Philippines are an archipelago, composed of thousands of islands, inhabited by different ethnic groups, who speak different languages.
Original and visayas languages