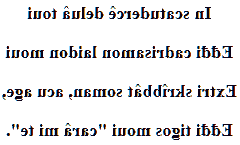 La Glace Copyright ©
Attempt to translate the poem into Gaulish (thanks to Matrix)
Love poem translated into Gaulish (French celtic). Poem of the early bards. Attempt to translate the poem, with the ogham writing.

With intonation

In scâtânû delwâ towâ
Etsi werowâ cerdî mowâ.
Mâ bladiet, moxsu encû,
Etsi-i mou antion "te lubiû".

Dans le mirroir, image de toi
C'est le meilleur poem mien
Mais il disparaît, "come soon"
C'est mon dernier je t'aime


explication :

scáth - shade, shadow
scadarc - mirror
scátháin - mirror (http://www.englishirishdictionary.com)
mirror - scâtânon ( from scátháin)

Uerovos = superlatif de Dagos = bon

Poème = canivâtus = Gallois ceinwawd mais Cerdd-/Cerdi = composition lyrique poem

Mais = extos Vieil Irlandais. act, acht et aussi vieil Irlandais má = si

rapide = âxsus : diligence, speed, effectiveness, efficiency [Gallois
awch

encet ancon –i mo: to come =Vieil Irlandais. r-icc, t-icc; air-ec,
moxsu : (adv) soon

disparaître = bladion (n io) = meurtre destruction
antios (io) : dernier

This is of course just a little fun, the Gaulish, have just left a few traces of their language.